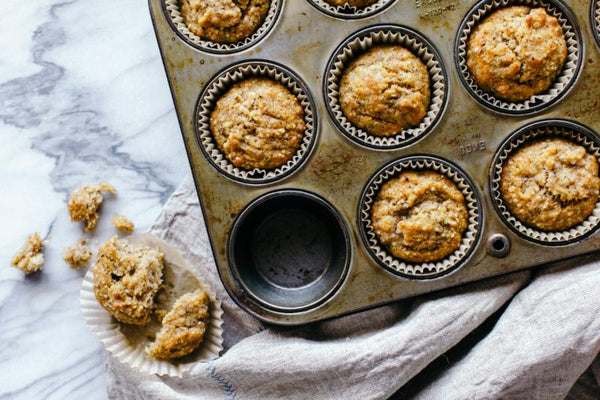 BANANA COCONUT HEMP MUFFINS
The perfect breakfast on the go, or lunch box treat, these whole grain muffins have plenty of fiber thanks to spelt flour, coconut and bananas to feed beneficial bacteria in the gut and keep digestion running smoothly. Not too sweet, the protein and healthy fats in hemp seeds will help you avoid energy-busting crashes in blood sugar.
Makes 12 Muffins
Dairy Free, Nut Free, Vegan, Vegetarian
INGREDIENTS:
1 cup (250ml) whole grain spelt flour
½ cup (125ml) Planet Superfood Super-Seed Mix
½ cup (125ml) unsweetened dried coconut
1 ½ teaspoon (7.5ml) baking powder
½ teaspoon (2.5ml) salt
½ teaspoon (2.5ml) cinnamon

1 cup (250ml) mashed very ripe banana (about 2-3 large bananas)
½ cup (125ml) extra virgin olive oil
¼ cup (60ml) pure maple syrup or honey
1 tablespoon (15ml) ground flax
1 teaspoon (5ml) pure vanilla extract
HOW TO MAKE:
Preheat oven to 375 degrees Fahrenheit (190 degrees Celsius). Prepare muffin tin with paper liners.

In a medium bowl, prepare the flax egg: mix ground flax with two tablespoons hot water. Set aside.
In another medium bowl, whisk together flour, hemp seeds, coconut, baking powder, salt and cinnamon. Set aside.

To the flax egg, add mashed banana, olive oil, and maple syrup. Add the wet ingredients into the dry ingredients and mix until just combined. Do not over mix.

Scoop into muffin tins by the level ¼ cup scoop. Bake for 19-21 minutes until the top begins to turn golden brown and a toothpick inserted into the centre of the muffin comes out clean.

Let cool in muffin tin for five minutes before removing to a cooling rack to cool completely.

Store at room temperature, loosely covered for up to four days or freeze muffins for up to one month.