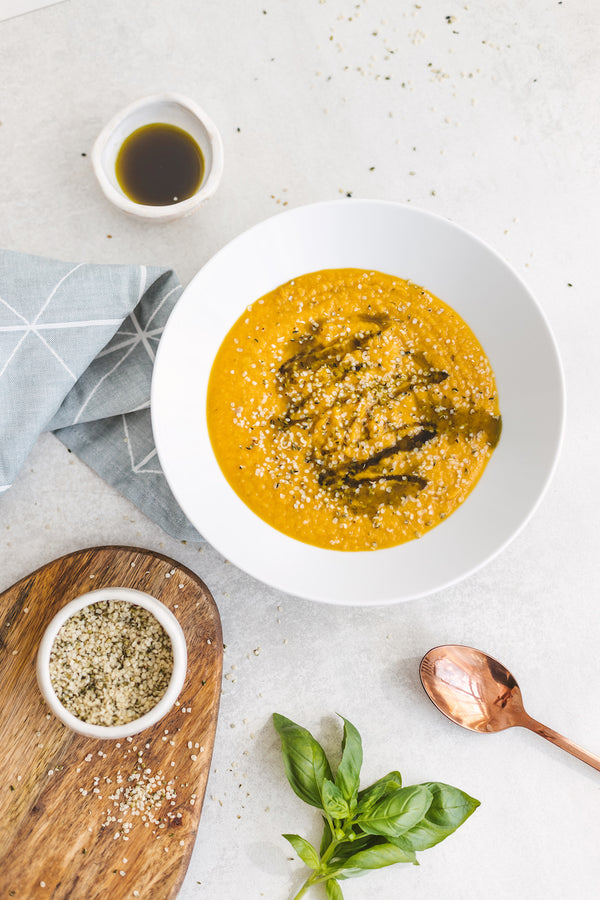 Butternut Squash Soup
The perfect fall soup just got better with hemp seeds and oil.
SHOPPING LIST:
2 medium butternut squash, cubed
½ cup hemp seeds (hulled, original or savory onion)
½ cup vegetable broth or water
1 white onion, diced
1 jalapeno pepper, diced (omit if using chili hemp oil)
4 cloves garlic, minced (omit if using garlic hemp oil)
2 Tbsp. hemp oil (chili, garlic, or original)
1 tsp. fresh shaved ginger
2  to 2 ½ cups milk or milk substitute
Salt and ground black pepper to taste
Toppings:
Plain Greek yogurt
Hemp seeds (hulled, original or savory onion)
Fresh basil
HOW TO MAKE:
Preheat the oven to 400 degrees F.
Toss butternut squash with 1 Tbsp oil and minced garlic in a large bowl. Season with salt and black pepper. Spread the squash out on a foil wrapped baking sheet.
Roast in the oven for 25 to 30 minutes until the squash is tender and lightly browned.
While squash is roasting, soak hemp seeds in vegetable broth or water.
In a skillet over medium heat, saute onion in 1 Tbsp hemp oil until fragrant.
In a large soup pot combine the onions, roasted squach, jalapeno, ginger, milk, hemp seeds and the broth/water they are soaking in. Bring to a simmer and reduce heat to medium low.
Cook covered for 20-25 minutes.
Carefully transfer mixture to a blender and process until creamy.
Swirl in plain Greek yogurt and garnish with hemp seeds and fresh basil.