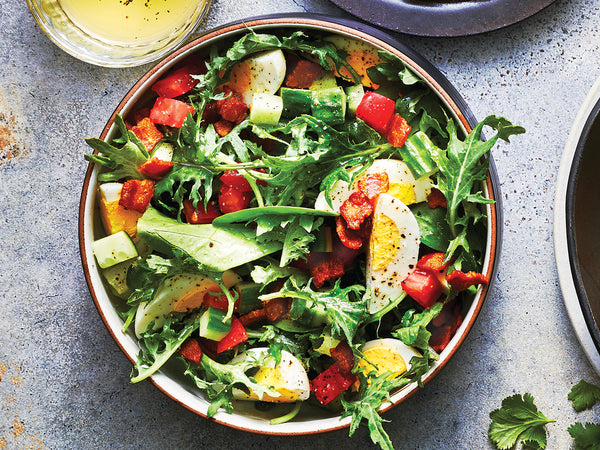 CHOPPED SALAD WITH ROASTED GARLIC VINAIGRETTE
This salad has all the flavors of a yummy with the added bonus of creamy garlic dressing. Roasting the garlic tames its bite and adds a lot of sweetness to the salad dressing. Feel free to sub the greens for another variety.

SHOPPING LIST:

1/2 roasted garlic head, cloves removed from papery skin
2 teaspoons fresh lemon juice
2 teaspoons olive oil
2 teaspoons Chicken Bone Broth
1/4 cup chopped cucumber
2 cups baby kale, chopped
1 cup baby spinach, chopped
1 plum tomato, chopped
1/8 teaspoon kosher salt
2 hard-cooked eggs, quartered
4 tbsp of Planet Superfood Organic Garlic Flavored Hemp Oil & a spoonfull of Original Seeds Mix

 

HOW TO MAKE:

Place the garlic in a large bowl, mash thoroughly with a fork until smooth.

Add the lemon juice oil and broth stir well with a whisk. cucumber kale spinach tomato bacon salt toss to coat.

Top eggs two tablespoons of Planet Superfood Garlic Flavored Hemp Oil per serving.