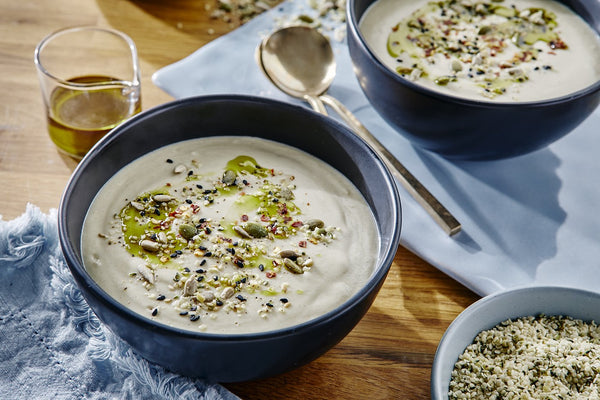 CREAM OF PARSNIP SOUP
You might be surprised at what a luscious cream hemp seeds create, lending this parsnip soup a dreamy texture that seems way more decadent than it is. Parsnips are high in soluble fiber, which is soothing to the gut - adding miso at the end of cooking helps preserve it's digestive benefits while it adds an umami-rich lift to the soup.
Makes 4 servings
Dairy Free, Gluten Friendly, Paleo Friendly, Nut Free, Vegan, Vegetarian
INGREDIENTS
1 pound (450g) parsnips, scrubbed and chopped into ½ inch pieces
1 medium yellow onion, peeled and chopped into 1 inch pieces
2 tablespoons (30ml) extra virgin olive oil or avocado oil
3 cloves garlic, skin on
½ teaspoon (2.5ml) salt

2 ½ cups (625ml) water
¼ cup (60ml) shiro (white) miso
½ cup (125ml) Planet Superfood Hulled Hemp Seeds
2 teaspoons (10ml) sesame oil

To serve: dried chili flakes and Planet Superfood Savoury Onion Seed Mix
METHOD
Preheat oven to 425 degrees Fahrenheit (220 degrees Celsius). Prepare a large rimmed baking sheet with a piece of parchment.

Toss the parsnips, onion and garlic with olive oil and salt on the baking sheet and roast for 15-18 minutes, until the parsnips are fork tender. Remove from heat and let cool slightly.

In a high speed blender, squeeze garlic out of the skin and discard skins. Add roasted parsnips and onion, along with water, miso, hemp seeds, and sesame oil and blend on the soup or heat setting until silky smooth. Taste and thin texture a bit of water if desired.

Divide among bowls and top with a sprinkle of dried chili flakes and Planet Superfood Savoury Onion Seed Mix.