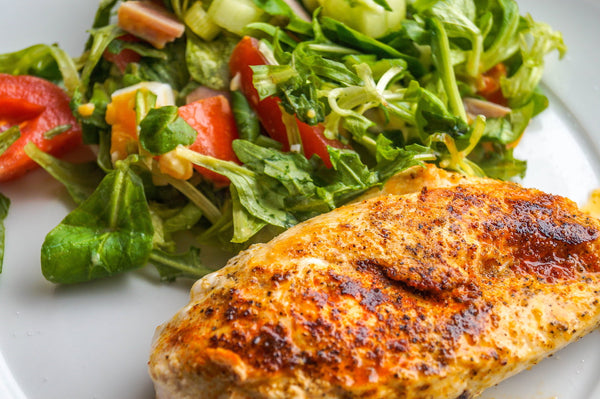 Crispy Herb Chicken
Mint oil and herbs combine to give an extra-crispy texture to this chicken dish. Pair it with the tomato balsamic mint salad for a refreshingly light but satisfying meal.
SHOPPING LIST:
3 pounds of chicken breasts
8 small shallots, peeled
2 garlic cloves, peeled
3 Tbsp Mint Hemp Oil
1 cup fresh flat leaf parsley leaves
Salt and pepper to taste
HOW TO MAKE:
Make the herb paste by pulsing garlic, 2 Tbsp. mint oil, and 1 cup parsley in a food processer until finely chopped. Season with salt and pepper.
Season chicken breasts with salt and pepper and then rub the herb paste all over the chicken. Chill in the fridge for a minimum of 3 hours (can be prepared the day before and left in the fridge overnight).
Move rack to the lower third of oven. Preheat the oven to 425 degrees F.
While oven is preheating, place chicken breasts in a large cast iron skillet that has been greased with 1 Tbsp Mint Oil. Cook over medium-high heat for about 5 minutes.
 Add the shallots to the skillet and transfer the skillet to the oven. Roast for 20-25 minutes, After 20 -25 minutes, flip the chicken and the shallots. Roast for another 8-10 minutes.
Serve and enjoy!