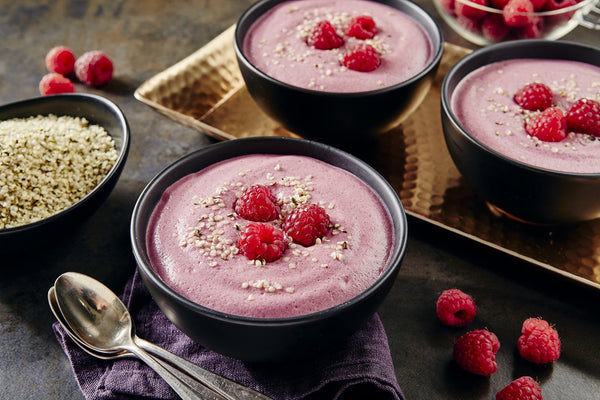 RASPBERRY HEMP MOUSSE
That liquid in the can of chickpeas you typically throw out? It makes the most amazing meringue...which gives this light and fluffy mousse its gorgeous texture. The creamy base of this mousse is high fiber raspberries and hemp seeds packed with anti-inflammatory omega 3 fats, making this the ultimate healthy swap for traditional mousse recipes.
Makes 6 servings 
Dairy Free, Gluten Friendly, Nut free, Vegan, Vegetarian 
INGREDIENTS:
½ cup (125ml) bottled lemonade (not lemon juice concentrate) 
2 teaspoons (10ml) agar powder 
2 cups (500ml) fresh or slightly thawed raspberries 
½ cup (125ml) Planet Superfood Super-Seed Mix
¼ cup (60ml) pure maple syrup 
¼ cup (60ml) water 
2 tablespoons (30ml) freshly squeezed lemon juice 
½ teaspoon (2.5ml) pure vanilla extract 
¼ teaspoon (1.25ml) cinnamon 
½ cup (125ml) liquid from a can of unsalted chickpeas (aquafaba), divided. 
¼ teaspoon (1.25ml) cream of tartar 
pinch of salt  
METHOD:
Place raspberries, hemp hearts, maple syrup, water, 2 tablespoons of the aquafaba, lemon juice, vanilla and cinnamon in a blender or bullet and process until smooth. Set aside. 
In a small saucepan, bring lemonade and agar to a boil, then reduce heat a bit to keep it from over bubbling. Simmer, stirring frequently for 3 minutes to activate the agar, then remove from heat. Let cool for one minute, stirring frequently so it doesn't set, then pour into the blender and quickly pulse to blend with the raspberry mixture, set aside. 
Next, in a medium glass bowl using a handheld beater, beat the remaining aquafaba (6 tbsp) with cream of tartar and salt on high speed until a meringue with stiff peaks forms, about 6-9 minutes. You should be able to invert the bowl without the meringue moving if it's ready. 
Scrape 1/3 of the raspberry mixture into the aquafaba meringue and gently fold in until mostly incorporated. Some white streaks can remain.  
Gently fold in the remaining raspberry mixture until well combined and divide among the dessert cups. Place cups into the refrigerator and cover with saran or reusable wrap and chill for 2-4 hours or up to 12 hours in advance. This recipe keeps for a maximum of 24 hours. 
Tip: Agar is a vegetarian gelatin alternative made from seaweed. It isn't always easily found in the supermarket. Try online or your local gourmet or baking supply store.