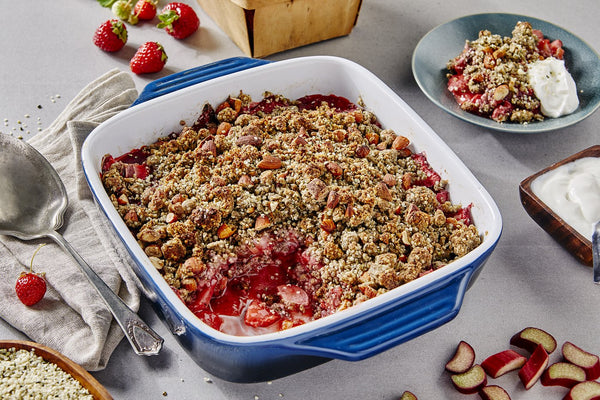 STRAWBERRY RHUBARB HEMP CRUMBLE
Nothing says summer quite like a strawberry rhubarb crumble. Cardamom, a warming spice that is thought to support digestion, adds a new twist on an old favorite, topped with a rye flour and hemp crumble that trades nutrient-poor white flour for plenty of fiber, protein and minerals! A sweet tart treat you can enjoy year round with frozen fruit for a quick dessert anytime the craving strikes!
Makes 6 servings
Dairy Free, Vegan, Vegetarian
INGREDIENTS
2 cups (500ml) sliced fresh or slightly thawed strawberries
2 cups (500ml) sliced fresh or slightly thawed rhubarb
2 tablespoons (30ml) cane sugar
1 tablespoon (15ml) arrowroot powder
½ teaspoon (2.5ml) cardamom

¾ cup (175ml) rye flour
¾ cup (175ml) Planet Superfood Hulled Hemp Seeds
¼ cup (60ml) chopped or slivered almonds
¼ cup 60ml) extra virgin olive oil or coconut oil
¼ cup 60ml) pure maple syrup
½ teaspoon (2.5ml) pure vanilla extract
1/8 teaspoon (0.5ml) cardamom
pinch of salt
METHOD
Preheat oven to 350 degrees Fahrenheit (175 degrees Celsius) and lightly grease an 8x8 square baking dish with olive oil or coconut oil.

In a medium bowl, combine the strawberries, rhubarb, sugar, arrowroot and cardamom and toss to coat. Pour fruit mixture into the baking dish.

In another medium bowl, stir together the rye flour, hemp seeds, almonds, olive oil, maple syrup, vanilla, cardamom and salt. Using fingers, crumble the hemp topping evenly over top of the fruit.

Bake for 40-45 minutes until fruit looks bubbly and topping turns golden. Let cool slightly and serve warm or at room temperature. Will keep on the counter for a day or in the refrigerator for three days.

Tip: the sweetness of the crumble will depend on the sweetness of the fruit you are using. Taste the berries, if they aren't super sweet…or you just like your desserts sweeter, add a tablespoon of sugar to the crust mixture.