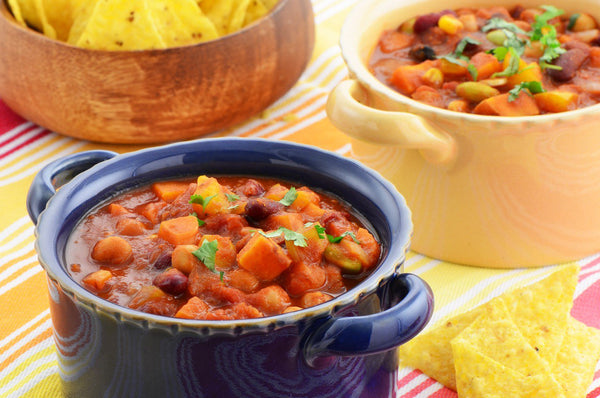 SWEET POTATO & BLACK BEAN CHILI
Make a double batch of this quick vegetarian chili, full of black beans and sweet potatoes, and eat it for lunch the next day or freeze the extras for another night.

SHOPPING LIST:

2 tbps Planet Superfood Organic Hemp Oil in Chili Flavor
1 medium-large sweet potato, peeled and diced
1 large onion, diced
4 cloves garlic, minced
2 tablespoons chili powder
4 teaspoons ground cumin
1/2 teaspoon ground chipotle chili
¼ teaspoon salt
2 ½ cups water
2 15-ounce cans black beans, rinsed
1 14-ounce can diced tomatoes
4 teaspoons lime juice
½ cup chopped fresh cilantro
HOW TO MAKE:

Heat oil in a oven over medium-high heat. Add sweet potato and onion and cook, stirring often, until the onion is beginning to soften, about 4 minutes.

Add garlic, chili powder, cumin, chipotle and salt and cook, stirring constantly, for 30 seconds. Add water and bring to a simmer. Cover, reduce heat to maintain a gentle simmer and cook until the sweet potato is tender, 10 to 12 minutes.

Add beans, tomatoes and lime juice; increase heat to high and return to a simmer, stirring often. Reduce heat and simmer until slightly reduced, about 5 minutes. Remove from heat and stir in cilantro.

Serve and add two tablespoons of Planet Superfood Chili Flavored Hemp Oil on top per serving.

Enjoy!